EUR / USD and GBP / USD on May 29 – technical analysis recommendations
EUR / USD
Bulls, having the support of the major players in the COT report last May 19, 2020, lived up to expectations and were the leaders of the movement throughout the current week, allowing bears only minor corrections and retests. Now, the most important action is to optimistically close the week and the month of May, forming the shortest upper shadow corresponding to the candles. The technical picture of the euro at the moment is the test of the most important resistance area 1.1067-88 (the upper border of the daily cloud + weekly Kijun and Senkou Span A + monthly Tenkan), to which the pair may form good prerequisites of a breakout, but the result of the interaction will be formed later. Such will determine the further prospects of the situation.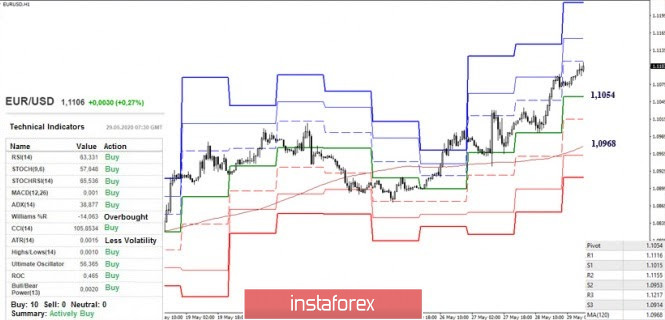 The support for the central pivot level worked out to maintain a bullish mood in the lower time frames yesterday. Thus, the upward trend remains active today, supported by all analyzed technical analysis tools. The resistances of the classic pivot levels on H1 are now located at 1.1116 – 1.1155 – 1.1217, with key support settled at 1.1054 (central pivot level) and 1.0968 (weekly long-term trend), and intermediate support at 1.1015 (S1). Testing the weekly long-term trend, as well as a consolidation below it, will serve as a catalyst for rebound from the resistance level usually reached in the higher time frames. Thus, today, it is again advisable for bulls to successfully close the week and month with a downward correction, limiting the support in the central pivot level (1.1054).
GBP / USD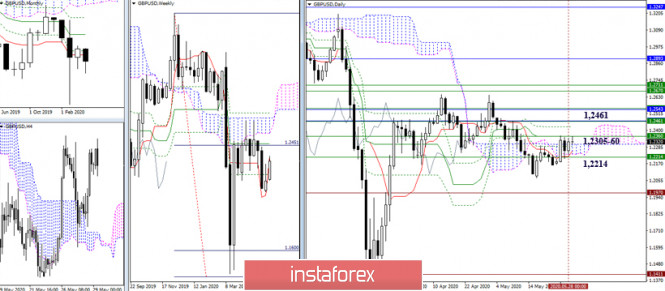 The absence of a significant advantage and convincing preferences among major players in the last COT report promised the continuation of the struggle. Bulls, as expected, tried to take the initiative, but were stopped by the key resistances, led by the daily Kijun (1.2360). The results for today will be indicated by the size of the upper shadow of the weekly candle, as well as the lower shadow of the monthly candle.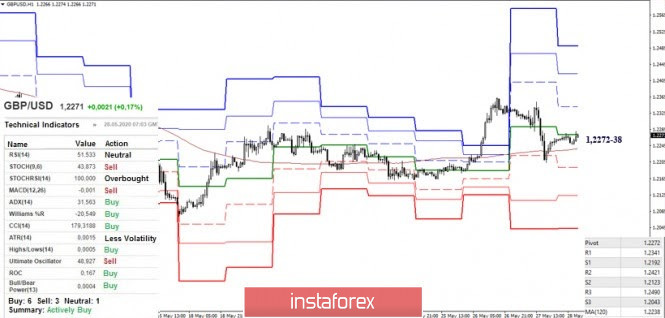 In the lower time frames, the pair maintains support for the key levels, but players are still unable to go beyond the correction zone (1.2362). As a result, preferences were divided, with the technical indicators signalling a bearish mood, while the key support on H1 still try to defend the bullish mood of the players. Quotes are now at 1.2300 (central pivot level) and 1.2257 (weekly long-term trend), but a consolidation below promises a return of bearish mood and prospects.
Ichimoku Kinko Hyo (9.26.52), Pivot Points (classic), Moving Average (120)
Source: EUR/USD and GBP/USD on May 29 – results of the analysis of the COT report (Commitments of Traders)