The above chart shows the number of active Covid-19 cases in Russia.
The number of new cases is +8,700 per day.
Overall, around 231.6 thousand patients are receiving medical treatment in Russia, of which 94 thousand people being treated in Moscow.
The situation in several Russian regions is so difficult that the army has had to help Dagestan and Zabaykalsky Krai. In Tuva, even people in critical condition are being denied hospitalization as there are no beds left in hospitals. In St. Petersburg, the load on medicine has remained at its highest level since the beginning of the epidemic – more than 10 thousand people are on treatment at the same time.
The epidemic goes on due to loose quarantine measures in regions (except Moscow). Moreover, the government as eased restrictions further on May 12. Therefore there is no decline in new cases.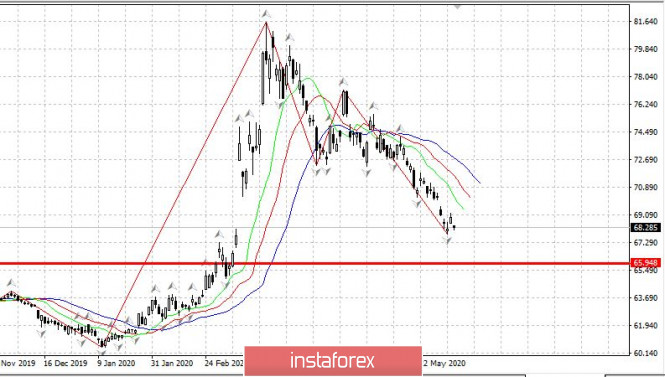 The Russian rouble is no longer strengthening. It is better to buy the instrument placing a Stop Loss below the latest lows or buy at the current lows.
The reasons for the weaker rouble are low oil prices and the prospects for a significant recession and a prolonged crisis in the Russian economy due to the refusal of the government to provide direct financial support to citizens and small businesses during the crisis.
In the United States, for example, the most important tool to help people during a crisis period is unemployment benefit. Their number usually increase during the time of a crisis.
In Russian regions, people cannot receive an unemployment benefit in the amount of the minimum wage (12,000 rubles, or around $174). They are given only 1,500 roubles (around $22).
In terms of high unemployment, low benefits are a heavy blow to demand and the economy.