May 27, 2020 15:00
The massive market sell-off and subsequent rebound in the wake of the coronavirus shutdown masked multiple different market movements – airlines, travel and banks tanked; large-cap tech (primarily the FANGs) dipped and then recovered with many setting new highs; and a select group of companies servicing the Work-From-Home (WFH) movement surged (most notably Zoom, which is up 260% for the year).
According to
FirstRate Data, there has been a tenfold increase in customer demand for analytics on WFH stocks, with the central question being: should the rally in WFH stocks be chased or are they overextended and due for a correction?
Work-From-Home stocks – a low-risk investment opportunity?
Before considering the likely direction of the WFH stocks it is worth noting that these now exhibit the very interesting property of low (or even negative) betas. Beta is a measure of how volatile a stock is in relation to the broader market – with higher risk stocks having betas above one and low risk stocks such as utilities having betas below one.
Traditionally mid-cap tech stocks such as the WFH stocks would have very high betas, often close to 2, meaning the returns of these stocks are expected to be a multiple of the returns on the broader index. Since the Covid-19 crisis, however, these stocks are moving contrary to the broader indices and so have low betas often associated with low-risk stocks such as utilities.
For an investor holding a portfolio of diversified stocks, this means the stocks can be added to the portfolio and provide additional returns whilst at the same time reducing portfolio volatility (note that these low betas are likely a temporary phenomenon and would be unlikely to last over six months).
Are Work-From-Home stocks already overbought?
In terms of technicals, most WFH stocks look very stretched – for example the stochastic oscillator for Zoom, Slack, Peloton and Shopify are all above 80, indicating the stocks are extremely overbought. In addition, there is significant headline risk in the WFH cohort, note the 5-10% selloff on the mildly optimistic news of an early-stage vaccine in mid-May.
Fundamentals look even more precarious – valuations have already priced in dramatic growth and these companies will need to demonstrate extremely strong revenue growth to justify their valuations. For example, Zoom currently trades at a valuation of 66 times its sales, when a typical tech company would be expected to be 10-15 times sales.
It therefore appears that much of the hyper-growth from Covid-19 is already priced into the WFH stocks and risk is to the downside.
Opportunities for the second wave Work-From-Home movement
However, there is still significant opportunity in companies that will benefit from second-order effects of the WFH movement – i.e. companies that provide services to the 'core' WFH companies. These companies are typically technology vendors, supplying the key infrastructure components that the WFH companies rely on.
Many of these stocks are just beginning to be recognised now as the core WFH stocks were previously the primary focus of investor's attention. For example, Splunk (which provides a data-analytics service) had seen its stock price only recover to pre-Covid levels by mid-May, however its stock surged 12% after it's May 21 earnings release when it provided strong guidance due to onboarding key customers such as Zoom and Shopify.
Similarly Twilio surged 30% after it announced increased demand from telehealth and tech-education companies.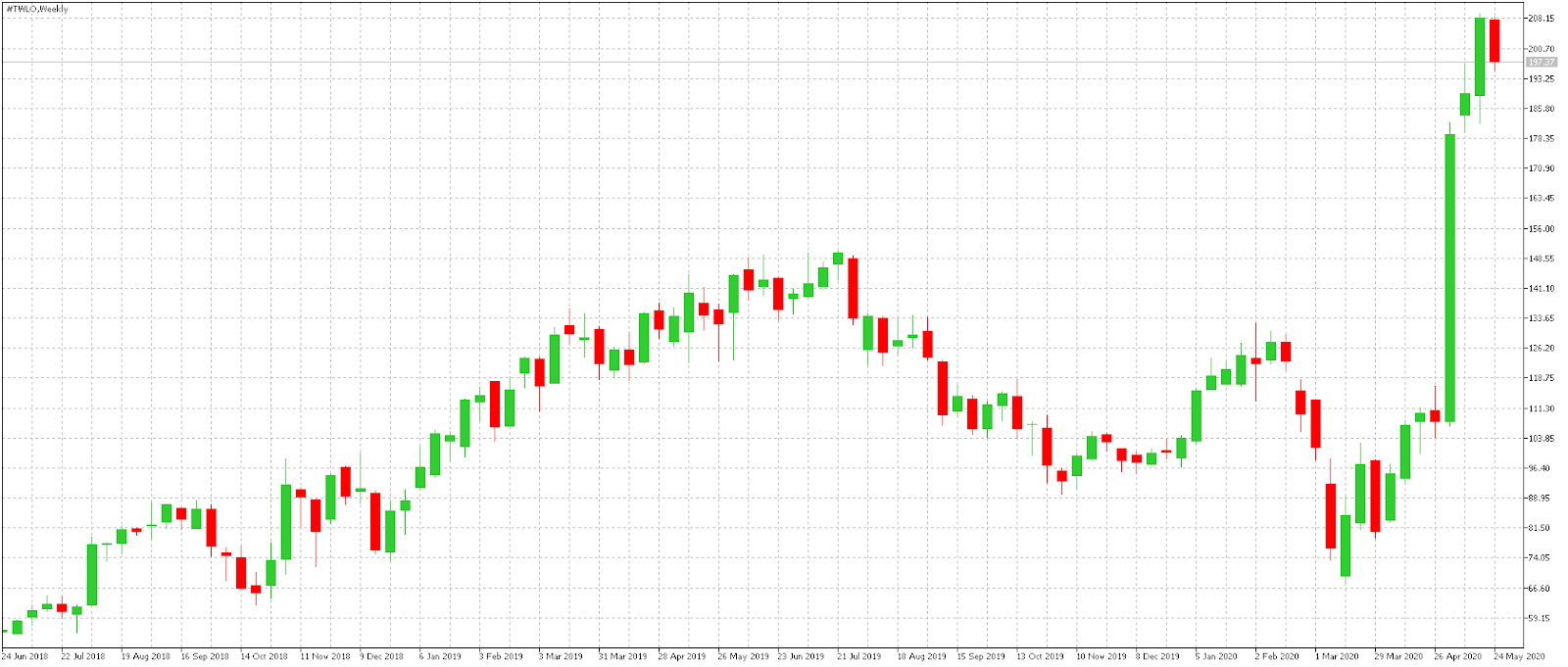 Source: Admiral Markets MT5 with MT5-SE Add-on #TWLO Weekly chart (between 24 Jun 2018 and 27 May 2020). Accessed: 27 May 2020, at 9:00am EEST – Please note: Past performance is not a reliable indicator of future results, or future performance.
There are numerous tech stocks still to report which are likely to benefit significantly from second-order effects of WFH whose stock has not seen a dramatic increase, such as ZenDesk (ZEN) which provides customer support tech for websites, RingCentral (RNG) which provides cloud-based communications solutions, SolarWinds (SWI) which proxies network monitoring technology.
Whilst the WFH rally may have further to run the risks of a major downside correction are mounting, there is still significant value in stocks of companies providing the infrastructure for the core WFH companies.
How can you get in on the action? Sign up for a trading account with Admiral Markets!
Did you know you can trade 4,000 plus stocks via CFDs with our Trade.MT5 account? This allows you to trade the changing prices of your favourite company shares without having to invest in the shares outright. Learn more and open an account by clicking the banner below.
INFORMATION ABOUT ANALYTICAL MATERIALS:
The given data provides additional information regarding all analysis, estimates, prognosis, forecasts, market reviews, weekly outlooks or other similar assessments or information (hereinafter "Analysis") published on the website of Admiral Markets. Before making any investment decisions please pay close attention to the following:
1.This is a marketing communication. The content is published for informative purposes only and is in no way to be construed as investment advice or recommendation. It has not been prepared in accordance with legal requirements designed to promote the independence of investment research, and that it is not subject to any prohibition on dealing ahead of the dissemination of investment research.
2.Any investment decision is made by each client alone whereas Admiral Markets AS (Admiral Markets) shall not be responsible for any loss or damage arising from any such decision, whether or not based on the content.
3.With view to protecting the interests of our clients and the objectivity of the Analysis, Admiral Markets has established relevant internal procedures for prevention and management of conflicts of interest.
4.The Analysis is prepared by an independent analyst Ryan Maxwell, Guest Contributor (hereinafter "Author") based on personal estimations.
5.Whilst every reasonable effort is taken to ensure that all sources of the content are reliable and that all information is presented, as much as possible, in an understandable, timely, precise and complete manner, Admiral Markets does not guarantee the accuracy or completeness of any information contained within the Analysis.
6.Any kind of past or modeled performance of financial instruments indicated within the content should not be construed as an express or implied promise, guarantee or implication by Admiral Markets for any future performance. The value of the financial instrument may both increase and decrease and the preservation of the asset value is not guaranteed.
7.Leveraged products (including contracts for difference) are speculative in nature and may result in losses or profit. Before you start trading, please ensure that you fully understand the risks involved.
Source: Work-From-Home Stocks – Room to Run or Due for Correction?